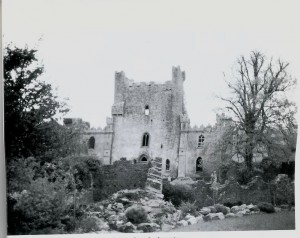 In the early hours of Sunday morning, 30 July 1922 a party of eleven raiders set fire to the Leap totally destroying the North and larger wing and its valuable contents.  Giving evidence in the claims court Richard Dawkins said that on 30 July 1922, he was living in the Castle as caretaker with his wife and baby. They were the only persons in the castle that night. Richard Dawkins stated that at 2.20am there was a knock on the door.  He opened the window, put out his head, and saw men outside who stated that they wanted a night's lodging.  The ordered him to open the door.  He went down and opened the door and was subsequently held at gunpoint.  The raiders then stated that they were going to burn the castle.  Dawkins asked for time to get his wife and child out and was given twenty minutes to do so.  The raiders then went into the castle and poured petrol over the rooms, and set them on fire.  They kept the family outside from 2.30am to 5.00am.  Each of the men had a tin of petrol, and all were armed.  Some had trench coats and other had bandoleers over their civilian clothes.  The men broke furniture before setting the castle on fire.
After the fire on Sunday 30 July the main part of the building was still intact.  Richard Dawkins saved a quantity of the furniture and stored it in one of the outoffices.  The outoffices were later broken into and looted by people from the surrounding neighbourhood who devoted Sunday to making visits to the ruined building and carting home any serviceable articles that had escaped the fire.
On Monday morning 31 July Richard Dawkins and his family (who had gone to live in the gate lodge) heard a knock at the door at 4.20am.   Men outside asked him for paraffin oil.  He stated that he had none.  The men then left and went down to the castle.  When he went down to the castle he found that the Southern part of Leap which had not been burned in the other fire was now on fire.  Richard Dawkins could not get into the castle to save the valuable furniture and pictures that had survived; all he managed to save were chairs and a sofa which he stored in Birr.  His wife was the only one who gave him any assistance.  Although plenty of people came to see the fire they only laughed when Dawkins asked them for assistance.
In a newspaper report Jonathan Darby said that it looked as if there were explosives used in the destruction of the castle he had found some dynamite in the cellar where the raiders got so drunk they could not explode it.  He said that it was the locals who burned the castle.   
–          Noel Guerin
5 Responses to "The Burning"