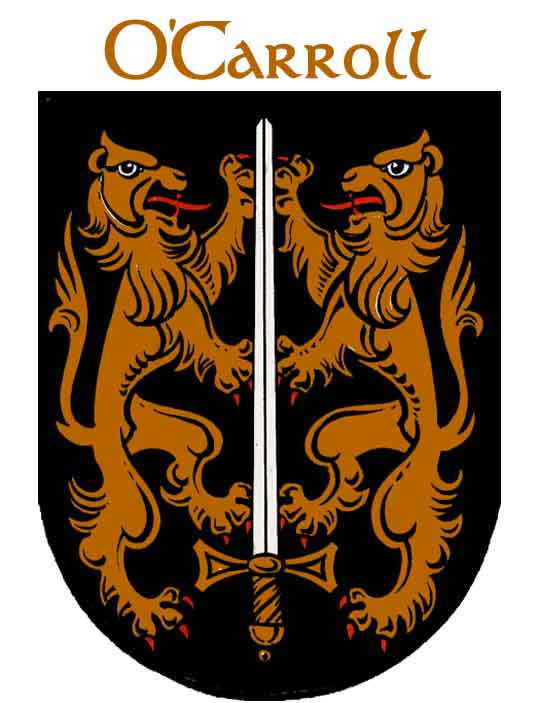 The O'Carrolls were a fierce and brutal clan, continualling struggling for power and supremacy. They were known to be particularly violent and cunning in the attempts for domination.
John O'Carroll was thought to be the first Prince of Ely who lived at Leap Castle. It is very probable that it was he who was responsible for the construction of the earliest sections of Leap Castle. John O'Carroll died at Leap Castle, suffering from the plague. John O'Carroll was succeeded by his son named Mulrony O'Carroll.
Mulrony O'Carroll was renowned for his strength, bravery and valour and was considered a great leader. The Great Mulrony as he was known died (most likely) at Leap in 1532 after a rulership of fourty two years. Mulrony was succeeded by his son Fearganhainm.
Fearganhainm O'Carroll was rumoured to have murdered a guest at the dinner table, his steward killing the servant in the Guardroom. Fearganhainm was murdered in 1541 by the O'Mulloys. He was succeeded by his sons Teige 'the one-eyed', William, Maolruanuidh and Uaithne.
Teige was quick to assume command but was subsequently killed by his own kinsman Cahir (or Charles) O'Carroll. Teige fathered a son, Mulrony O'Carroll.
Cahir was in turn slain by Teige's younger brother William Odhar O'Carroll in 1554.
William "The Pale" Odhar O'Carroll was murdered in 1581 by his O'Conor relations. William fathered four sons Teige, Mulrooney, John and Charles. William was succeeded by his son John.
John O'Carroll was slain the following year by his cousin Mulrony (son of Teige the one-eyed).
This murder was avenged swiftly by John's brother Charles O'Carroll, killing Mulrony and becoming Prince of Ely. He was also knighted in 1586.
Charles O'Carroll was slain by in 1600. This was retaliation as Charles had previously killed 150 of his own men and some McMahon nobles. It was thought Charles had come to lose trust in some of his own men. Upon time to pay them for their services, Charles and his few trusted men slew them where they slept.
In 1629 John O'Carroll, nephew of Charles O'Carroll was given the official ownership of the Leap Estate.
The year 1649 the property of Leap Castle was handed over to the first of the Darby line, Jonathon. He was a soldier of the Cromwellian forces and was handed the property and land in lieu of pay.
1664 saw the property handed back to John O'Carroll due to his continued loyalty to Charles the 1st. This arrangement was unfortunately reversed in 1667 due to the differing views of Charles the 2nd. The Leap Castle was once again back in the hands of the Darbys.
50 Responses to "The O'Carrolls"